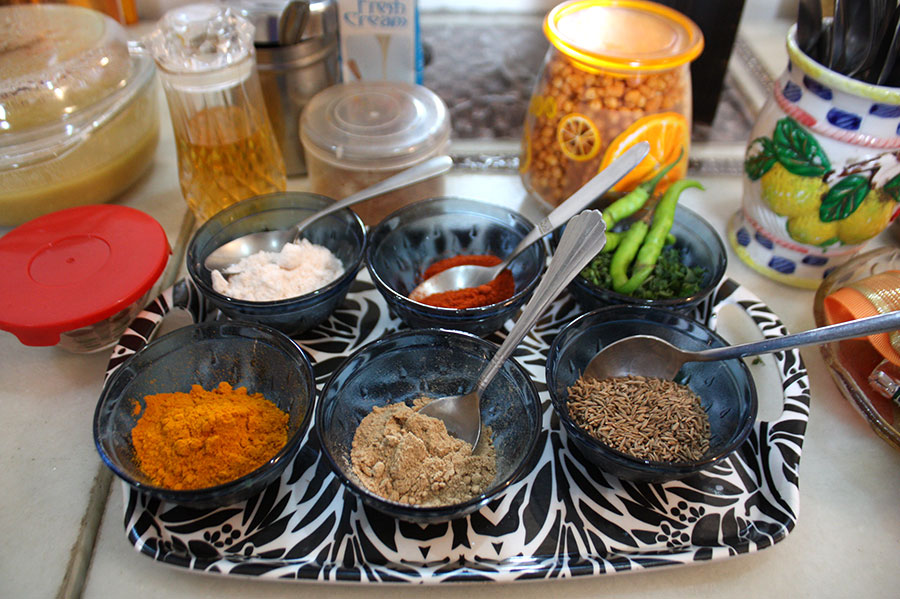 Traveling Spoon
An Authentic Mughlai Meal Near the Taj Mahal with Monica Bhatia
---
Monica has been cooking since she was a young girl and still remembers the first dish she ever prepared for her family - poha, an ethereal flattened rice dish seasoned with spices. She learned most of her cooking skills from her grandmother and mother-in-law, who taught her to make an excellent kadhi chawal (yogurt curry served with rice).
In addition to cooking and feeding her loved ones, Monica helps her husband run the family restaurant, which was started by her father-in-law in 1960 making it one of the oldest restaurants in Agra. Cooking runs in the family as both her husband and son are trained chefs. Her son owns a café in Agra called Overdoze. When not cooking, Monica runs a small boutique out of her home that showcases Indian clothes and fabrics.
What to expect:
Cooking Experience:
During the winter months, Monica will begin the cooking experience with a barbeque - you will learn how to marinate chicken and paneer (fresh Indian cheese) and cook it in a tandoor, an outdoor clay used for baking and cooking.
You will then move indoors to watch Monica's cooking demonstration at her dining table (rather than the kitchen), where she uses a portable cooktop to demonstrate how to prepare the meal that you will dine on together. She prepares some of the ingredients in advance in order to save cooking time as Indian food can take a while to cook. You will watch as she demonstrates how to make chana masala (chickpeas cooked in Monica's special masala), dal tadka (cooked lentils, tempered with oil or ghee, spices and herbs just before serving), jeera aloo (potatoes with cumin seeds) and boondi raita (yogurt served with tiny, crispy fried balls of gram flour). Please note that this is a cooking demo, not a hands-on cooking class.
Meal:
Monica lives with her husband, Sanjiv, and their son and daughter in a simple apartment just steps away from the architectural wonder that is the Taj Mahal. She will welcome you into her home with a warm smile and while you sip on your welcome drink, tell you about Mughlai cuisine and culture. Monica prepares typical home-style dishes from Uttar Pradesh, a state whose cuisine has been greatly influenced by Mughal cooking techniques. The dishes commonly cooked include mutton (goat) and paneer (fresh cheese) redolent of rich spices such as cardamom and saffron.
Your meal will be served at the dining table and may include dishes such as tandoori chicken, malai ki sabzi (vegetables cooked with cream), onion paratha (flatbread stuffed with onions and potato), butter chicken, gobi aloo (cauliflower and potato), bhindi masala (okra stuffed with spices) and kheer (rice pudding). Monica's daughter is a talented artist and would love to showcase some of her art in the form of mehendi (henna) designs for all those interested; she also makes beautifully decorated diyas (earthen oil lamps). Choose a starting time, either: 11:00am or 6:00pm.
---
Recently viewed