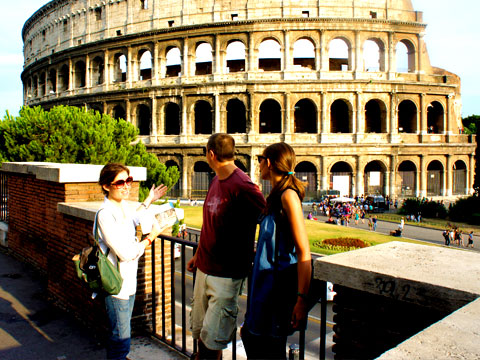 Eyes of Rome
Private Colosseum & Roman Forum Tour - Transfer Included
---
At first glance, you'll see rubble but soon your knowledgeable and passionate private guide will help bring the ruins to life, painting a vibrant picture of Rome in the time of the emperors. Walk where the Roman senate walked, see where the gladiators fought, and stand where the citizens welcomed the Roman soldiers after successful campaigns.Leave the crowds behind and enter the Ancient Rome with your skip-the-line tickets and your personal local story teller. Walk where the Roman Senate met, see where the gladiators fought, and breathe the atmosphere of long lost echoes.
Visit the Colosseum, one of the largest structures of the ancient world, where Romans once gathered to watch the gladiator games, battles with wild beasts, and according to legend, sea battles. Discover how the Colosseum, a massive stone amphitheater which seated an estimated 60,000 spectators, was built in only 8 years. Your guide will unlock fascinating stories of the design and construction, the political benefit, the fighters, and the eventual end of the games at the Colosseum.
At the Imperial Roman Forum, your guide will bring to life the mythology, the popular celebrations of the time, and the gods of ancient Rome, which are reflected in the star signs in contemporary astrology. Learn how the pagan holiday Saturnalia influenced the unfolding of Christmas on the 25th of December today. Listen to the story of the Lapis Niger (Latin for 'black stone'), the most ancient Latin text ever discovered in the world - which is housed in the foundation of a column in the Forum.
Discover the Temple of the Vestal Virgins - six young women taken from aristocratic families to serve as virgin priests of Vesta. They worked in the temple for a period of 30 years under different emperors and were regarded almost as goddesses in status. Their foremost duty was maintaining the sacred fire of Vesta which represented the hearth of Rome. As legend had it - as long as the sacred flame burned, Rome would endure. End your tour with a wonderful view of the city and of the Imperial Forum from Capitoline Hill, the smallest and most important of the seven hills of Ancient Rome.
Recommended tour Extensions:
• Michelangelo's Moses | Pantheon | San Clemente Undergrounds | Palatine Hill
Included:
• Blue Badge Qualified Guide | Admission Tickets (Guaranteed to skip the long lines) | Meet&Greet your Guide at your Hotel/Accommodation | Transportation to the site (only available for centrally located accommodations) | Private Tour
Not Included:
• Return Transportation (available upon request) | Private Driver throughout the tour (can be arranged upon request)
---
Recently viewed