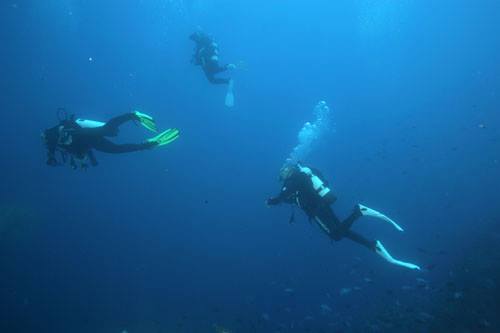 New Zealand Diving
SSI Deep Diving Specialty
---
If you had decided that diving is a sport you want to really immerse yourself in, then its time for you to continue your adventure with SSI's continuing education program. If you dream of exploring the big blue this specialty is for you. In this program you will learn the knowledge, skills, and experience required to make these deeper dives safely and comfortably. With an array of specialty dive programs to chose from, here at NZ diving we have selected ones in which feel will increase your ultimate dive experience, right here in the beautiful NZ coastline. Once certified these specialties will allow you to explore different marine environments around the world.
Course Description
Many exciting dive sites are located in deeper water. Without proper training, this kind of diving puts you at risk. The SSI Deep Diving Specialty will give you the ability to safely and comfortably plan and conduct dives beyond 18 meters, and is a prerequisite for some advanced training. You will earn the SSI Deep Diving Specialty certification. after completing this program
Minimum Age:15
Certification Prerequisites:Open Water Diver
Academic Sessions:1
Pool/Confined Water Sessions:Optional
Open Water Dives:3
Maximum Training Depth:40 meters / 130 feet
Suggested Duration:6 - 10 hours
The Diver Diamond methodology
Each of our Specialty Programs is based on our diver diamond methodology. Diver Diamond is the cornerstone of the SSI educational system. It emphasizes the critical components of a great scuba education program: Proper knowledge, Proper Skills, Proper Equipment and Proper Experience. The diver diamond is the foundation for the Ultimate Dive Experience.
At SSI, they don't want you to just learn to dive; they want you to become a diver. Their goal is to make every step of your scuba experience all about your comfort and confidence in the water. SSI professionals work together to make learning come alive with personalized instructions that will put your skills to use in reality based training scenarios. The unique approach is known as "Comfort through repetition". By practicing each skill learned throughout each level of training your actions become conditioned responses - second nature!
Repetition ensures you retain what you have already learned while continuing to learn more. As a result, diving becomes more fun.
---
Recently viewed