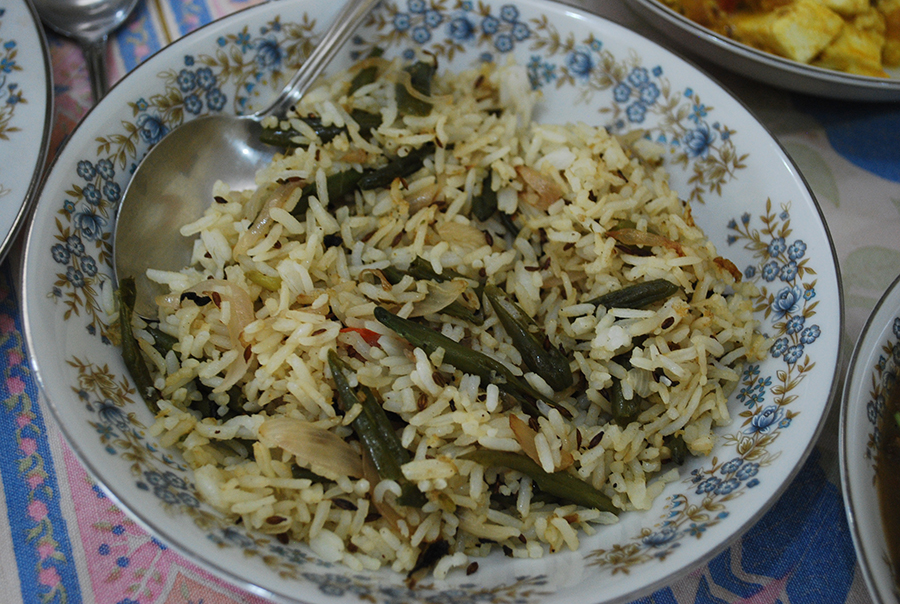 Traveling Spoon
Punjabi Meal with Fun Loving and Family-oriented Kavita
---
Kavita lives with her husband and son in their beautiful bungalow in a suburb of Mumbai. Mumbai being a concrete jungle, they very lucky to have a little garden in their backyard, where they spend a lot of time barbequing in the cooler months. Kavita is a voracious reader and recently started reading and studying ancient scriptures. She loves to travel and meet with people from different countries and cultures. Kavita is very passionate about cooking, especially her traditional Punjabi food, and she loves to experiment with different cuisines. Kavita says she subjects her family to all kinds of cooking disasters and yet her family looks forward to every meal Kavita puts out on the table at mealtime.
What to expect:
Meal:
You will be greeted by Kavita into her beautiful spacious home where she will serve you a North Indian meal, from the state of Punjab. Some of the dishes may include chicken makhani, more popularly know as butter chicken (tender pieces of boneless chicken, marinated with yoghurt and spices, then cooked in a gravy with tomatoes, cashew nut paste and butter), minced lamb, paneer masala (fresh cheese cooked with cumin, bell pepper and tomatoes), boondi raita (fried gram flour balls mixed with yougurt and flavored with red chili powder and cumin), vegetable pulao (rice dish cooked with vegetable and spices) and chapattis. Deserts may include gulab jamun (dumplings made of thickened milk soaked in rose flavored syrup) and kheer (home cooked pudding made with vermicelli, milk and sugar).
Choose a starting time, either: 9am or 5pm.
Note:
During the winter months, Kavita may have an interactive barbeque session in the evenings on her lawn where you will grill various north Indian starters with her. Some of the appetizers may include chicken tikka (succulent pieces of chicken, marinated with yoghurt, delicately spiced, and cooked), lamb or chicken mince sheek kababs (minced meat marinated with onions and spices), paneer tikka (fresh cheese marinated with yogurt and spices), baby potatoes and mushrooms cooked north Indian style.
---
Recently viewed