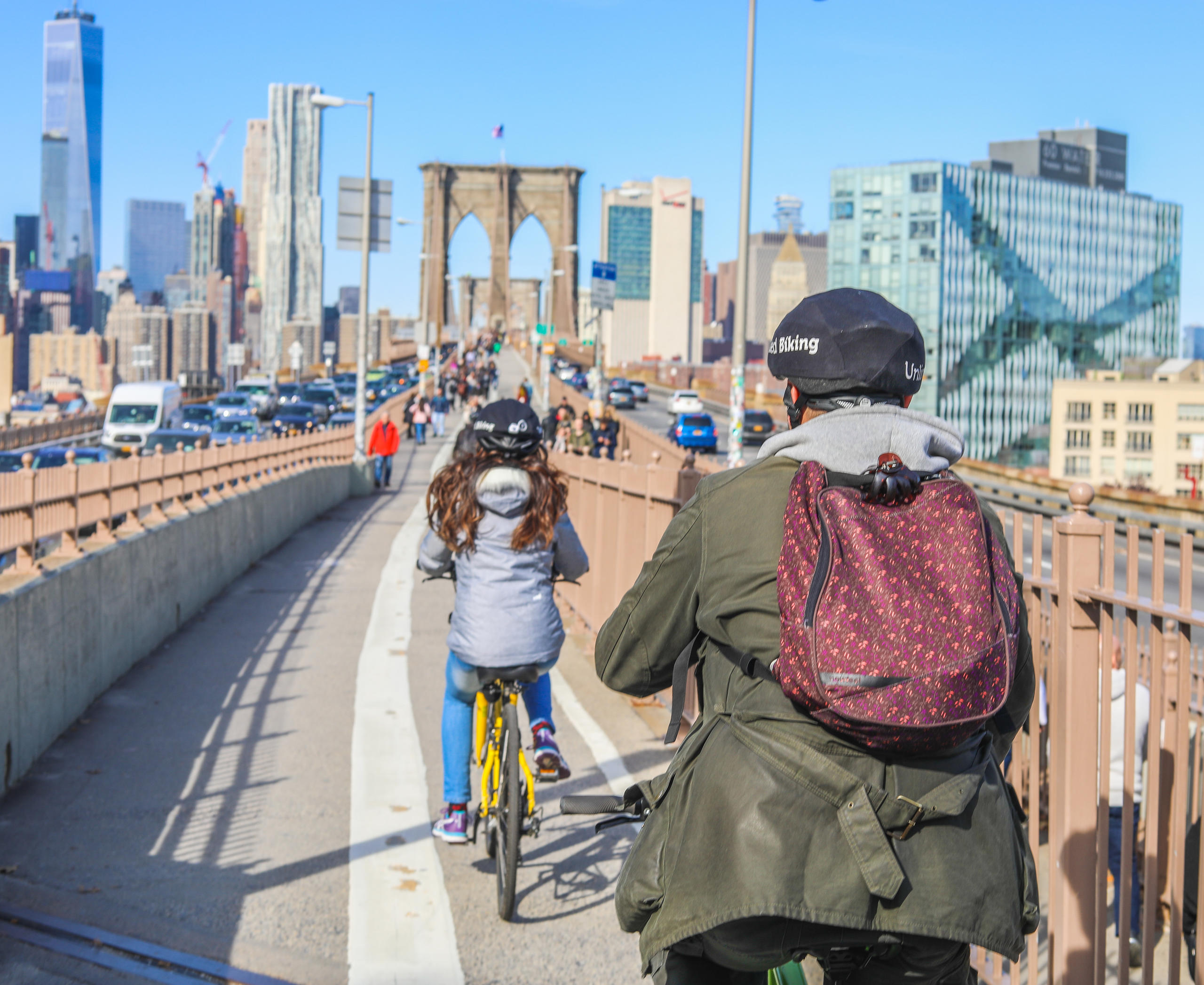 Unlimited Biking
All Day Bike Rental with Big Bus Premium Tour Ticket
---
Explore New York City through bus and bike with an All Day Bike Rental & Big Bus Classic Ticket.
Unlimited Biking All Day Bike Rentals:
See the ins and outs of New York City on a bike. With an All Day Bike Rental and pick up across any of our store locations, you can visit iconic landmarks such as Central Park, Brooklyn Bridge, Hudson River/Hudson Yards, Harlem, South Street Seaport, Times Square, and more!
We partner exclusively with Cannondale to offer high-quality bikes for your experience! Each rental comes with a helmet, basket/bike bag, lock and illustrated map for your convenience. We provide bikes (and bike attachments!) for everyone over the age of 1, including hybrid bikes, road bikes, eBikes, Kids Bikes, baby seats, tag-a-longs, double trailers and tandems.
We offer everything you need to make your exploration of New York City successful and memorable. Additionally, our knowledgeable staff can provide you with specific routes based on your personal needs and desires.
Come ride with us! We provide all the necessary equipment for a safe and fun outing – helmets, baskets, locks and an illustrated map all included! We only offer top of the line, well maintained Cannondale bikes for men, women and children. Our prices are unmatched. We have seven stores located all around Manhattan for One Way Biking! Pick Up at one store and Drop Off at another!
Operations:
• April 1st - October 31st: Store Hours: 8am to 7pm
• November 1st - March 31st: Store Hours: 9am to 5pm
• Since this is an all day bike rental, please feel free to come in as early as from when we open, as long as the bikes are returned by the time we close.
Bike Rental Departure Points:
• Central Park South: 56 W 56th St New York, NY 10019
• Columbus Circle: 346 W 57th St New York, NY 10019
• Harlem: 111W 110th St New York, NY 10026
• Brooklyn Bridge: 38 Park Row New York, NY 10038
Tips
• Dress appropriately for the weather and bring your camera!
Big Bus Premium Ticket: 2 Day
Have more time to explore? Extend your Big Bus experience with the Premium Ticket, which provides access to our Uptown and Downtown Hop-On, Hop-Off Loops for two days. With two days you'll have more time to explore the Big Apple's top sights like the Metropolitan Museum of Art, the 9/11 Memorial Museum and Times Square. In addition to the Uptown and Downtown Loops, the Premium Ticket comes with the Harlem Loop, Brooklyn Loop, Panoramic Night Tour and a 1-hour Circle Line Sightseeing Cruise to see the Statue of Liberty! Enjoy more with the Big Bus Premium Tour!
Includes:
• 2 Day Explore Downtown Loop
• 2 Day Explore Uptown Loop
• 2 Day Explore Brooklyn Loop
• 2 Day Explore Harlem Loop
• Discover NYC by Night (Panoramic)
• 1-hour Circle Line Sightseeing Cruise
Redemption Instruction:
• Redeem vouchers at any Big Bus hop-on hop-off stop or at any Big Bus Welcome Center
• Please Click Here for Stops/Route: https://www.bigbustours.com/en/new-york/new-york-routes-and-tour-maps/?gclid=EAIaIQobChMI6pOg-7mI5AIVwySGCh1mXwN0EAAYASABEgLIxfD_BwE
Explore Downtown:
The Downtown Loop is a great way to explore Lower Manhattan including popular neighbourhoods such as the Flatiron District, Union Square, Little Italy, Chinatown, Soho & NoHo, Greenwich Village & the East Village, Chelsea and the Financial District. Wander around Wall St. to see the infamous Stock Exchange and Charging Bull, eat your way through Little Italy and Chinatown then shop till you drop at all the high end or boutique stores SoHo is famous for! You'll also find the Brooklyn Bridge and access to our Brooklyn Loop on the Downtown Loop.
Duration: 1.5 Hours / Operates: Summer Hours 08:00 – 18:00 (8:00am – 6:00pm) Winter Hours until 17:00 (5:00pm) /Frequency: every 15-20 minutes
Explore Uptown:
The Uptown Loop is an easy way to explore the Upper East Side, which is home to some of New York's most popular museums. This is where you go to get lost in history and the arts exploring the Guggenheim and the Metropolitan Museum of Art. The loop also takes you through Midtown, passing by the Grand Central Terminal and Hudson River at Pier 84, where you can hop off the take the Circle Line Sightseeing Cruise.
Duration: 1.5 Hours / Operates: Summer Hours 09:00 – 18:00 (9:00am – 6:00pm) Winter Hours until 17:00 (5:00pm) /Frequency: every 15-20 minutes
Explore Harlem:
The Harlem Loop connects you to the Upper West Side allowing you to get off and discover the American Museum of Natural History and the largest Anglican Church in the world, the Cathedral of St. John the Divine. If you have time, take in a Jazz or Gospel performance up in Harlem or hop off to explore Central Park.
Duration: 70 Minutes / Operates: 10:00-15:00 (10:00am-3:00pm) / Frequency: every 60 minutes
Explore Brooklyn:
Brooklyn is the most populated borough of New York, featuring 350 years of history and an incredible collection of celebrities, artists, landmarks and culture. Discover Brooklyn as you make your way across the historic Manhattan Bridge while taking in spectacular views of downtown Manhattan and the Brooklyn Bridge. Enjoy the sights of downtown Brooklyn as you pass by the Barclay Center and the Grand Army Plaza. Hop-off the tour to visit the Brooklyn Botanic Garden or simply wonder through the Brownstones and culture filled streets.
Duration: 1.5 Hours / Operates: 10:00-15:00 (10:00am-3:00pm) / Frequency: every 60 minutes
Discover NYC By Night:
Enjoy a panoramic tour of the city the never sleeps! See its beautiful lights as you drive through Times Square and catch a breathtaking view of lower Manhattan as you cross over the Manhattan Bridge. Finish the tour with views of the famous Radio City Music Hall, home to the Christmas Spectacular Rockettes.
Duration: 1.5 Hours / Operates: Summer Hours 19:00 – 21:00 (7:00pm-9:00pm) Winter Hours 18:00 - 20:00 (6:00pm-8:00pm)/ Frequency: every 30 minutes.
*Summer Hours: April 1st –Nov 1st / Winter Hours: Nov 1st – March 31st
Redemption Instruction:
Redeem vouchers at any Big Bus hop-on hop-off stop or at any Big Bus Welcome Center
RETAIL PRICE FOR PACKAGE: $108.55
PACKAGE PRICE: $87.00
---
Recently viewed