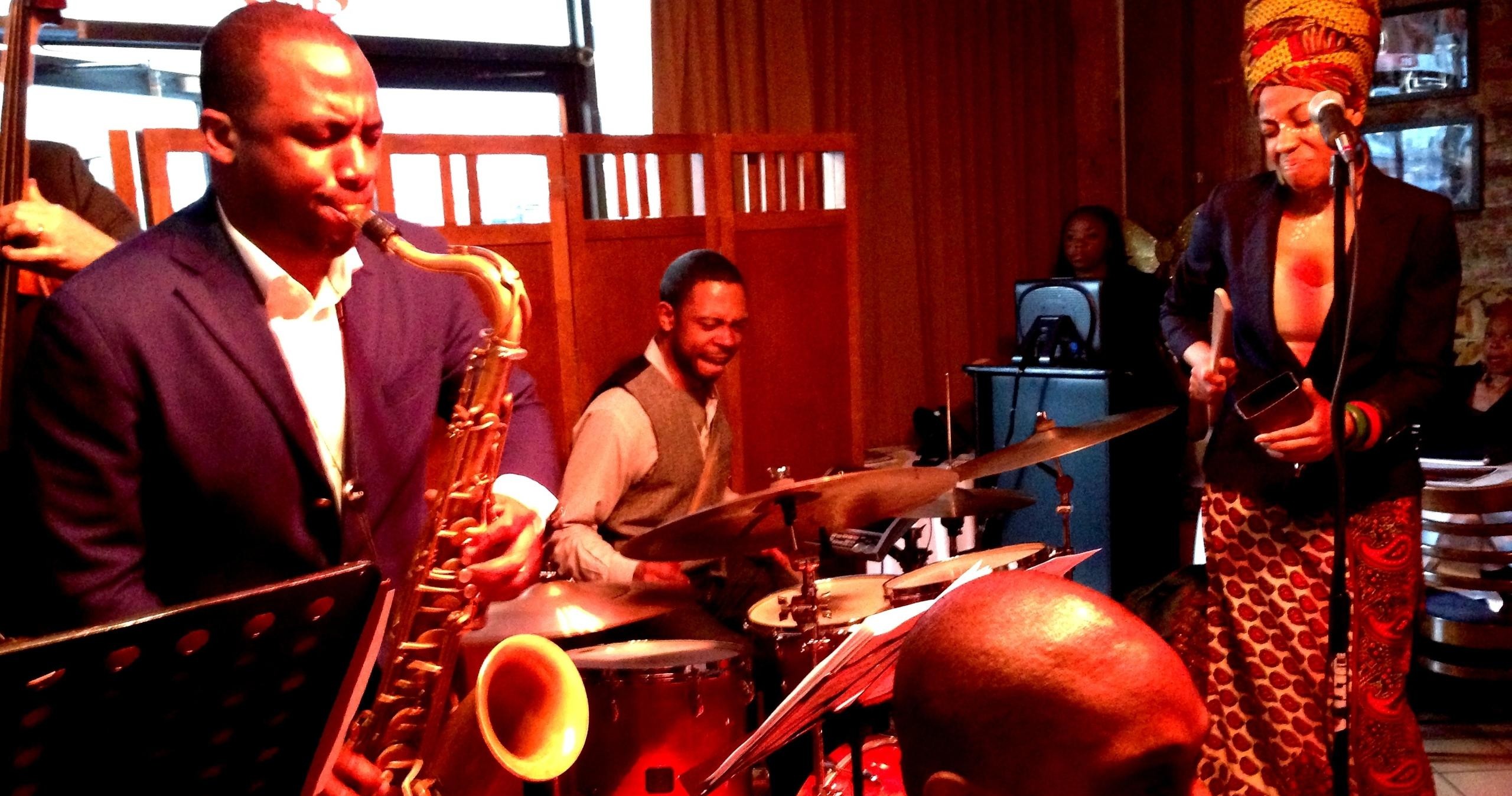 Big Apple Jazz Tours
Harlem Juke Joint Tour
---
A Small-Group Immersion Tour Through Harlem with Someone Who Is Part Of The Uptown Scene. Not a "Cookie-Cutter" Tour. That's not You, and that's not Us. Your jazz guide customizes the itinerary for your chosen night, selecting only the most talented players in Harlem's Most Exciting Clubs. This deep immersion tour escorts you through a minimum of 2 hidden jazz haunts (but most tours visit 3) for hours of swinging live music.
Perfectly integrated into the natural flow of the evening, we pause to see and hear about Harlem's historic past and dynamic present. Learn about the Cotton Club, Savoy Ballroom, Minton's Playhouse, Swing Street, The Tree of Hope, and the Apollo Theater, while discovering the brand new hot spots and restored architectural treasures.
There's lots of ways to enjoy the scene: If you're a player or singer, let us know so we can help you join the jam. If you like to move, then get up and dance! If you just want to groove, hang back and let the music wash over you. If you're feeling gregarious your guide will introduce you to all the cats. Mature teenagers are welcome on this tour and in the clubs.
Music charges at clubs, and transportation charges are included.
We tailor your itinerary based on each night's jazz schedule so you hear only the most talented performers in Harlem's most exciting joints! Just like jazz, no two tours are alike.
We go where the action is. Choosing nightly from among thrilling clubs like:
• The renowned "Birthplace of Bebop"
• A members' only club that dates back to the 20's
• A 1960's vintage dive bar with free food and swinging live music
• A Hammond B3 organ lounge from the 40's where Duke Ellington and Sarah Vaughan performed.
• A Speakeasy with roots going back to Prohibition and the discovery of Billie Holiday by John Hammond.
• And new Harlem spots on their way to becoming legendary - all with their own special charms.
It's an amazing scene - Every night, we hear Harlem's Legends and Young Lions!
We hear vocalists in the Billie Holiday and Dinah Washington tradition, serious soloists in the Sonny Rollins and Dizzy Gillespie tradition, and great bits of jazz history in the warmest, most inviting neighborhood in NYC!
Our TripAdvisor reviewers have elevated us to #2 in New York Nightlife Tours with over 90% Excellent Reviews.
Visit Harlem as a New Yorker would:
This is a subway/taxi/walking tour that gives you an authentic feel for this beautifully preserved and thoroughly charming neighborhood.
What's Not Included:
Food and beverages are not included in the tour price, but there will be opportunities to eat and drink during this tour when we hang out in the jazz joints. You may wish to bring some extra dollars to tip musicians, guide and servers.
Because of 20 years experience, even native New Yorkers rely on us for our insights!
There is no tour company like Big Apple Jazz with more intimate knowledge of and passion for New York's varied and complex jazz and blues scene. We customize our itineraries to take advantage of last-minute information and hit all the must see events. No other company is this flexible and passionate about showing you the best time possible.
Tour Information:
Meeting Location: Tours conveniently start in Midtown Manhattan by Columbus Circle - Specific details emailed to you with your confirmation.
Time: 6:30pm - 11:30pm
---
Recently viewed