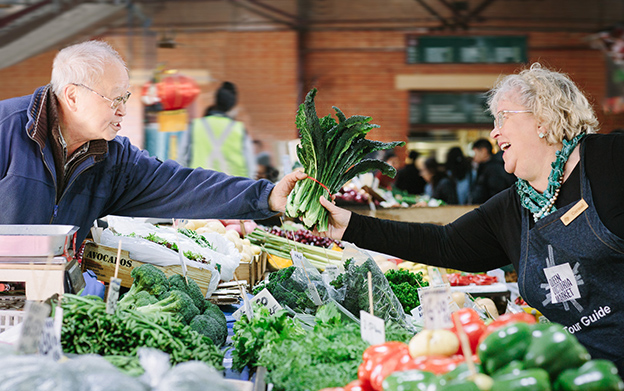 Queen Victoria Market
Queen Vic Market Ultimate Foodie Tour
---
A gourmet walking tour for food lovers. A delicious and fascinating guided walking tour of the iconic Queen Victoria Market. Taste the freshest produce, discover unique ingredients, learn tips and tricks for shopping and cooking, discover the Market's history and meet some of our beloved Market traders.
On your guided tour, you will wander through the heritage-listed Market food halls and visit some of the Market's best traders, indulging in an abundance of food as you go. On the menu is the freshest seafood, specialty cheese and antipasto, seasonal fruit, wine and lots more. 2-hour guided tour includes generous tastings, Market shopping bag and Market voucher, valid at all Market stalls.
Tours run:
Tuesday & Thursday 11am
Saturday 9am & 11am
Please note: The Ultimate Foodie Tour has been designed to highlight the best and most distinctive foods from Market traders but the tastings may vary or be substituted from season to season.
---
Recently viewed