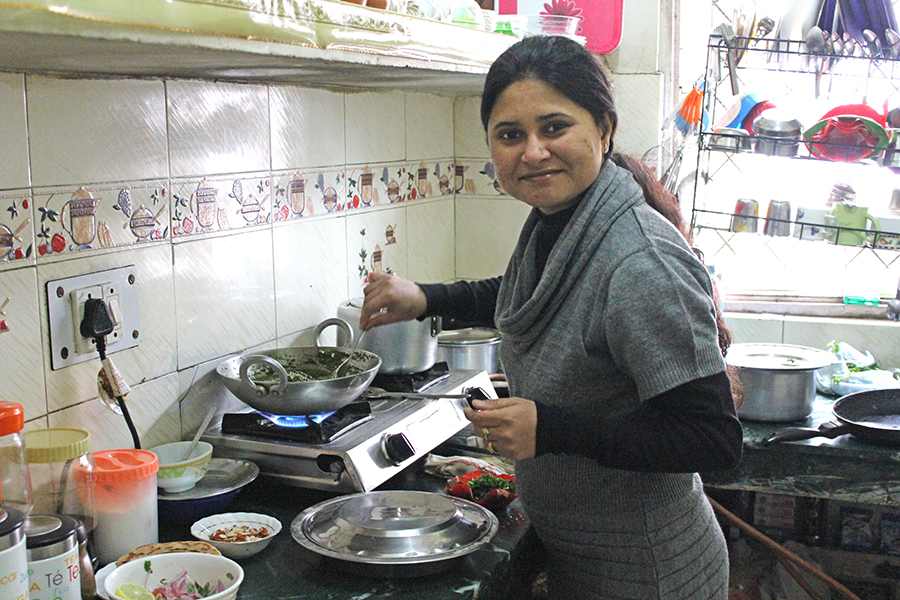 Traveling Spoon
Authentic Homemade North Indian Food
---
Bio:
Raised in a small city called Ghazipur near Varanasi, Farheen convinced her family to let her move to Delhi for a job opportunity. Her husband runs a travel company and in 2012 she started teaching cooking classes to his clients. An accomplished home-cook, she is passionate about the kitchen and loves to share her deep knowledge of Indian cuisine with her guests.

"I can cook any kind of Indian dish without a recipe!"
What to expect:
Market Visit:
Farheen will take you to a local Spice Market where you can discover spices used in traditional Indian cooking. You will then return to her home to learn to cook an authentic North Indian meal.
Cooking Experience:
Learn to cook in Farheen's small but welcoming kitchen 2-3 Indian dishes, including an Indian bread, before sharing the meal you helped prepare with her family in their living room.
Meal:
Farheen lives in a small and modest apartment, a 30 minute drive from the heart of Delhi. It is well worth enduring the winding, dusty dirt roads and the three story walk-up to the clean and homey apartment that Farheen shares with her toddler, husband, and brother because Farheen is one of the kindest, warmest, people we have ever met. Focusing on North Indian food, dishes you will enjoy may include a delicious and vibrant palak paneer, dals, chicken curries, and rotis.
Choose a starting time, either: 12:30pm or 6:30pm.
Note:
Farheen lives in a modest apartment in a three-story walk-up in East Delhi.
---
Recently viewed