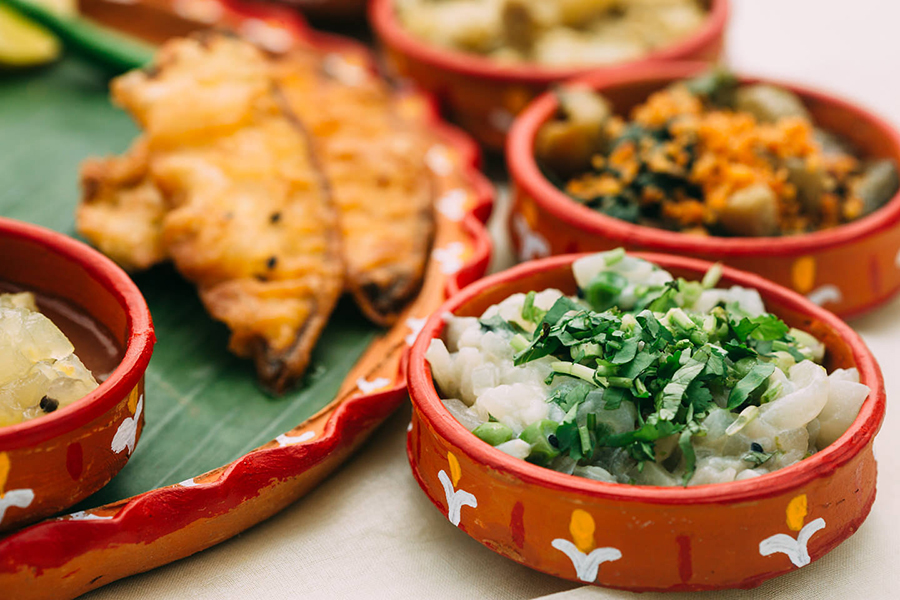 Traveling Spoon
Bengali Food in the Heart of Kolkata
---
Iti, a warm and welcoming retired British Airways executive, has been on a series of cooking shows on Indian TV where she demonstrates Bengali cuisine. She lives in Calcutta in an elegant, modern apartment with a garden terrace.
What to expect:
Meal:
Share with Iti a traditional Bengali tasting menu served on beautiful hand-painted terracotta plates with matching bowls for curries. Bengali cuisine centers around seafood, lentils and vegetables redolent of flavors like mustard, poppy seeds, panch poran (a traditional Bengali five spice blend) and coconut. Dishes may include pulao (fragrant saffron-flavored rice), dal (yellow mung lentils spiked with mango-flavored ginger and cumin), beguni (crispy eggplant fritters), alu jhinge posto (potatoes, zucchini, and yellow pumpkin cooked with a poppy seed paste), chingri malai curry (aromatic coconut cream prawns), bhetki paturi (sea bass coated with a mustard paste and steamed in banana leaves) which is one of the best fish dishes we have ever had. For dessert, you might try payesh (Bengali style rice pudding flavored with cinnamon and sweetened with date palm sugar) or another of her fantastic dishes. Choose a starting time, either: 9am or 5pm.
Note:
Please note that this experience is not suitable for children. Also note that four groups larger than four travelers the meal will be served buffet style.
---
Recently viewed