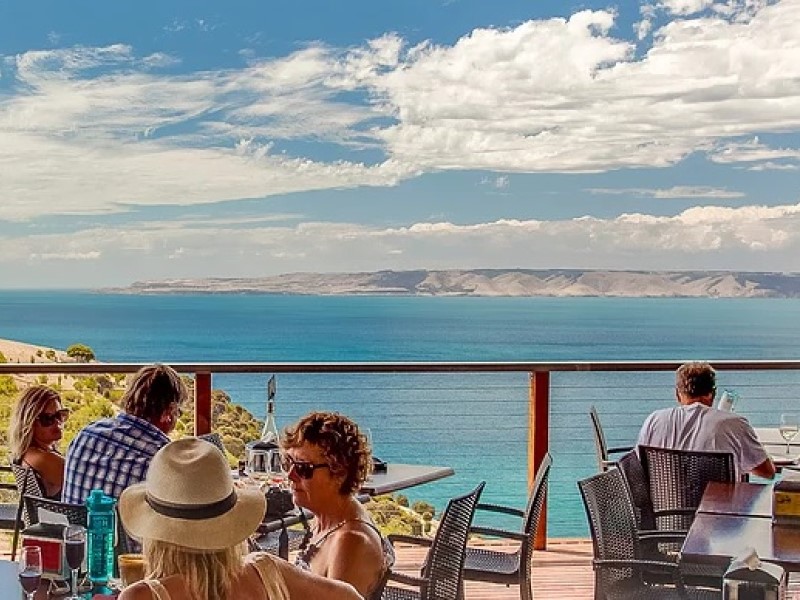 Kangaroo Island Trails
Kangaroo Island Trail incl Food and Wine
---
See the busy Ligurian Bees (originally imported from Italy) produce their amazing-tasting honey at Island Beehive and Clifford's Honey enjoy some Bay of Shoals wine and experience some Emu Ridge Eucalyptus and Emu Bay Lavender produce along the way. Visit Kangaroo Island Spirits where you can indulge in gin, vodka and liqueur tasting. A day tour to tickle the taste buds and tingle the senses. A food lover's adventure.
Itinerary
9:00: Pick up from your accommodation or Penneshaw Sealink Terminal. You will be greeted by Kangaroo Island Trails. The tour will commence with a drive to Pennington Bay.
09:30: Arrive at Pennington Bay for a photo shoot. This is a stunning beach where dolphins and sometimes whales can be spotted surfing and frolicking in the water. Bring your camera.
10:45: Visit Clifford's Honey Farm and enjoy a tasting of the different varieties of honey on offer. Browse the gift shop and watch a video to learn about the history of the Ligurian Bees on Kangaroo Island.
11:15: Visit Emu Ridge Eucalyptus and learn how a traditional Australian bush product is made at South Australia's only commercial Eucalyptus Oil Distillery. Emu Ridge is an excellent retail outlet that offers an extensive range of local products as well as tastings for Kangaroo Island Ciders. Enjoy a tour and learn how the distillation process takes place.
12:30: Make our way back into Kingscote to enjoy lunch at one of the local cafe's.
13:30: Make our way to Kangaroo Island Spirits. Sample handmade Gin. Vodka and Liqueurs. Enjoy the rustic surrounds! We recommend trying their specially made Honey and Walnut Liqueur Icecream.
14:45: Head down to Emu Bay Lavender Farm and taste the amazing Lavender Scones while enjoying a tea or coffee while basking in the relaxing surroundings.
15:30: Enjoy a wine tasting at Bay of Shoals Wines along with a cheese platter and learn about some of our local wines.
16:30: Head back to the accommodation. Island Beehive Island Beehive is owned by Kangaroo Islander, Peter Davis. A passion for bees and honey permeates the island beekeeping community with which Peter is intrinsically linked. Peter was born on Kangaroo Island and grew up around bees kept as a sideline on the family farm. Being one of the first, and now amongst the biggest organic honey producers in Australia, Peter is a leading voice in the honey production industry in Australia and is pro-active in protecting and promoting the Ligurian Bee heritage. Peter is constantly looking for ways to mentor and encourage people in the production of honey and bee products. The Island Beehive Company has eight other producers contracted to supply honey. They are expanding their production to enable supply to other markets. Bay of Shoals Wines Bay of Shoals Wines is located 5 minutes north of Kingscote and overlooks the Bay of Shoals and Reeves Point, the site of the first settlement in South Australia. Visitors to Kangaroo Island must visit Bay of Shoals Wines for a memorable tasting experience. They produce a range of award-winning wines including Sauvignon Blanc, Riesling, Savagnin, Pinot Gris, Chardonnay, Sparkling Chardonnay, Pinot Noir, Shiraz, Cabernet Sauvignon, Tawny and Vintage Fortified as well as several red blends. Awarded 49 Medals in wine shows and twice winner of the Gramp Cup for Champion Wine in the show. Enjoy a glass with one of their platters while taking in the magnificent view over the vineyards and the Bay of Shoals, or sample their range of wines in our famous Pelican Glasses while enjoying the captivating view over the Bay. Emu Ridge Eucalyptus The Emu Ridge Eucalyptus oil distillery and retail shop have been a popular Kangaroo Island tourist attraction since 1991, and we are now the only Eucalyptus oil distillery in South Australia. We manufacture 100 per cent pure Australian Eucalyptus Oil, which we sell along with a large range of associated products. The business provides a craft gallery retail area not only for our own art, craft and products but also provides an outlet for over 30 other local producers. We have a huge range of locally produced souvenirs available for you to buy, and we market a range of other Australian made oils and products. Our business also houses the cellar door for Rookery Wines, complimented with a full bar license, Cheese platters and tea and coffee facilities available. Kangaroo Island Spirits Kangaroo Island Spirits specialising in handcrafted premium Australian Spirits is South Australias only boutique distillery. Known as KIS, the company is a micro-distillery and our award-winning Gin, Vodka and Liqueurs are all produced at our Distillery on Kangaroo Island. We produce our products with a philosophy of Slow Spirits, a phrase derived to describe spirits made in a style similar to slow food i.e using high-quality fresh local and seasonal ingredients, being prepared with care, produced passionately, and made using traditional processes and recipes. There are no oils added to our spirits. Our cellar door provides a memorable opportunity for visitors to taste our products, absorb the island's culture and hospitality, and enjoy one of the island's must-see experiences. While here, try a signature affogato, or our exceptional coffee, absorb rustic charm, spirit history and quirky atmosphere. Emu Bay Lavender Farm Established in 2001, Emu Bay Lavender Farm has located about 20 kilometres from Kingscote just on the outskirts of the small quaint seaside village Emu Bay. Emu Bay Lavender Farm has 10 different varieties of lavender which is harvested and distilled annually on the property. Enjoy shopping for your lavender products which are all made on the premises or sit and relax and enjoy your surroundings while trying Tony and Maria's handmade Lavender Scones with a cup of coffee or tea.
Includes
Beverages, lunch and snacks
---
Recently viewed