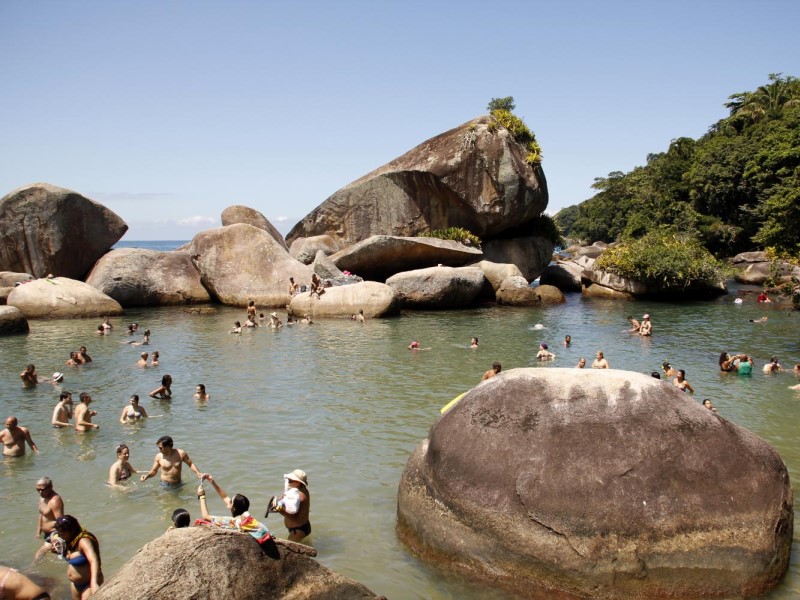 Gray Line Brazil
Trindade Fishing Village Beach Trek & Snorkelling Tour
---
Enjoy relaxing landscapes as you are taken to see the many beautiful beaches surrounding Trindade and go snorkelling in a natural swimming pool. Get in touch with nature through guided trekking between beaches.
Highlights
Enjoy beautiful landscapes and go snorkelling in a natural pool Enjoy beautiful beaches
Itinerary
On the Trindade minibus tour, we will take you to a charming little fishing village. You will visit four beaches and a natural swimming pool called Caixa Daco. The first stop is at the Cepilho beach, a famous spot for surfers. There you will make a quick stop for photos. Then the tourists return to the minibus to follow the tour until reach the Outside beach, where the optional lunch can be ordered, so it can be already prepared when returning to this beach. The Outside beach is the start of the guided walk and the end of the tour. From there, a 10-minute easy walking to the beautiful Meio beach. The tour continues with a guided walk of medium level and 50 minutes, passing through beautiful natural clearings and mountain forests. The road also crosses the beautiful beach of Caixa D'aco, arriving finally in the natural pool. At Caixa D'aço you can dive and swim in the crystal clear water as you want. You will enjoy the natural pool for 1 hour, and return by the same trail to the main village of Trindade to relax in the sun and sea. You can also choose to return by boat, by the amount of USD 4.00 (per person). When returning from the natural pool of Caixa D'aco, just enjoy the heavenly Outside beach and take a sunbath, walk through the white sand, swim in the sea, get a nice tan and relax to the sound of the waves.
Includes
Mineral water Transfers Professional tour guide
---
Recently viewed